News — personalized
Posted by John Gall on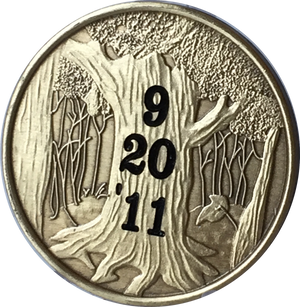 Looking for a unique sobriety gift for someone in recovery?  Something that won't duplicate a medallion they may receive in an AA or NA or other 12 step meeting?  Often these are given to a wife friend son daughter brother sister or girlfriend from a supportive person.   We have several Engraved Medallions and Keychains that let you put that personal touch on the gift you give.  Our Renewal Medallion has blank back and you can have anything you like engraved.  Quite a bit of space is available to put your message on the back of that coin.  The renewal...
Posted by John Gall on
One of our most popular Sobriety Medallions is the Wendells "This Day My New Life Began" engraved coin.  On one side is a stunning sun that says This Day My New Life Began.  The other side has a very detailed tree and on the trunk a date of your choosing is engraved.  I visited Wendells Inc and was fortunate enough to see one of these coins engraved and I photographed it during the various stages. The coin starts out with a blank tree and a machine run by a computer engraves the sobriety date you chose.  Then a chemical is...