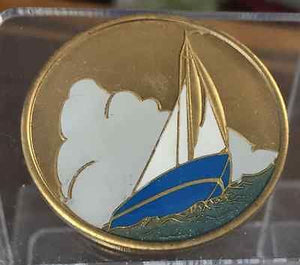 Sailboat Recovery Medallion Chip Coin AA NA Color Blue White Sober Sobriety
 Veterans In Recovery  Medallion Chip or  Coin
Often carried by those in Recovery programs like AA or NA
Front of coin has a sail boat in color.
Back of coin has "We Can't Control The
Direction Of The Wind We Can
Only Adjust Our Sails"

We added the extra beauty of painted epoxy color to create our
breathtaking Rainbow Medallions. The color will stand the test
of time and wear, and is a great way to show your appreciation
to that special someone.

This item is a great gift for members of AA or other recovery programs to commemorate time of sobriety.
None of the products we carry display any trademark owned by AA or other recovery programs unless purchased directly from that program.
Recoverychip and products we sell are not associated with AA or officially part of the AA program.
---
We Also Recommend