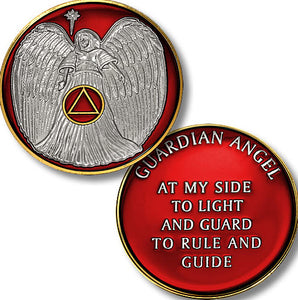 Large Guardian Angel AA Medallion Mandarin Red 1.5" Tri-Plate Sobriety Chip
Large 1.5" Challenge Coin Size Guardian Angel AA Medallion
As you seek your sobriety every day, surrendering to a higher power and sharing your experience with your fellow alcoholics, your guardian angel watches over you. Your angel is always there, helping you stay on the path to recovery, and giving you the strength to carry on. With your angel's prompting, this pocket medallion will spur you on to call your sponsor in those dark moments when you crave a drink. By surrendering to that higher power, helping fellow alcoholics do the same, and attending meetings regularly, you will maintain your abstinence and flee from binging.
For many AA's, their guardian angel was in the form of Sister Mary Ignatia, nicknamed the Drunk's "Angel of Hope." She was a Catholic sister in charge of admissions at Saint Thomas Hospital in Akron, Ohio. Sister Ignatia's care for alcoholics began in 1934 and continued until she retired in 1965. She never missed an opportunity to save an alcoholic from himself or herself. Her secret weapon in the fight against alcoholism was the sacred heart medallion she gave to every alcoholic who passed through her ward. She made everyone promise her to give it back if they wanted to take a drink. Many said they were going to give it back but Sister Ignatia always persuaded them to stay on track.
Metallic Mandarin Red Color and Gold Plated the AA Guardian Angel coin is the perfect way to honor your sobriety, and the higher power that sustains you, in a physical, easy-to-carry way. The obverse features a beautiful characterization of a guardian angel with the AA symbol in front. The reverse features a portion of the classic prayer made to one's Guardian Angel:
"AT MY SIDE TO LIGHT AND GUARD TO RULE AND GUIDE"
Whether you are 24 hours sober or using this coin as a daily reminder of your commitment, know that you can do it with the help of a higher power and the courage to change.
This 1.5-inch challenge coin sized medallion is larger than traditional recovery coin sizes, a more tangible reminder of your recovery. Drawing on the proud military tradition of unit challenge coins, the challenge coin size recovery medallion signifies dedication, community, and commitment. The additional tug of this slightly heavier coin will become a constant, reassuring reminder of your daily success and that you are not alone.
This item is a great gift for members of AA or other recovery programs to commemorate time of sobriety.
None of the products we carry display any trademark owned by AA or other recovery programs unless purchased directly from that program.
Recoverychip and products we sell are not associated with AA or officially part of the AA program.
---
We Also Recommend